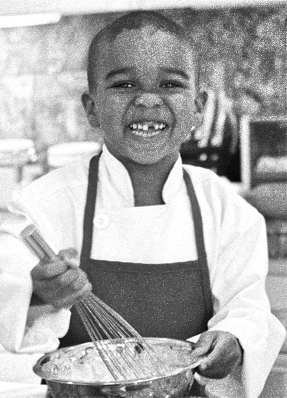 I've been cooking for loooong time, since my 8th birthday when my Tante Yolaine bought me Look! I Can Cook. The first two things I cooked out of the book were risotto and some kind of spice cake - I want to say banana bread. I served it to my family for dinner. My parents dutifully complimented me on my skills, no doubt only that I might take over the family cooking duties. My useless 5-year-old brother didn't say a thing. That's the last time I cook for him! Afterwards, I reflected on what an awesome birthday I'd just had because not only had I prepared my first meal, but I was also washing literally every dish and pot in the kitchen, just as all children love to do. I used that cookbook well into early adulthood. I'm a little sick to my stomach now that I misplaced it sometime post-university during one of my regular material purges.
The loss of the world's best cookbook is not a big problem now that we have recipes on the Internet. But now every moron who can open a box of Macaroni and Cheese thinks they're a semi-professional food blogger who can monetize the 25-odd decent recipes in the world by altering them slightly, adding pretty stock photos, and then creatively renaming them so that Mr. Noodles becomes Karen's Ramen Orgasm with an Artisanal Silver Wuhan Spice Sachet. If that wasn't bad enough, Karen doesn't even have the class to structure the recipe in the time-tested format found here; instead she creates 100 videos shot from directly overhead using a commercial top-down rig, and details every part of the kettle procurement process, like how to add water to the kettle, boil water in the kettle, and pour water from the kettle. Each video is 10-minutes long but she speeds them up to 30-seconds each and then arranges them vertically in a seven-kilometer-long web page in between hundreds of flashing Google ads. Instead of putting a "jump to recipe" link at the top of the page, she instead puts up 13 paragraphs of her personal history with ramen and how it changed her life and cured her kids' conjunctivitis. I'm not the only frustrated culinary genius complaining about this by the way. This is already well covered elsewhere.
So, what should a good recipe look like? It should look like ANY ONE OF THE RECIPES ON THIS SITE. By that I mean recipes should be devoid of frills and it should have a real picture of how the food will actually look once it's done. It should be simple to follow with the fewset number of ingredients listed in the order you'll need them in the recipe. The recipe should also be printable for dog's sake, and it should fit on a single dog-damned sheet of paper! It should use common, quality ingredients (i.e. no canned cream of mushroom soup and no saffron) and the person posting the recipe should have made it at least twice so that any improvements made the second time around make it into the recipe. Is that so fucking hard?!
Most of the recipes on this site are minor reformats of recipes from legitimate chefs who not only consistently make great food, they also know how to write a well-structured recipe. Sadly, it's a very short list of chefs: Alton Brown, Jacques Pepin, Mark Bittman, and Chef John. Almost all of the rest are from quality sites that I trust, like Minimalist Baker and Holy Cow!. I've simply re-formatted them to suit me. And of course, one or two of the recipes are Hemingway Originals™.
I once read somewhere that most family cooks make the same 13 recipes over and over, regardless of how many recipe books they have on their shelves. Because I am twice as good as most family cooks, I'll keep the recipes on this site to just twenty-six.
Enjoy them!